Heat in 'waiting game' after Jimmy Butler rolls ankle in Game 1 vs Knicks
The Miami Heat took Game 1 of their series against the New York Knicks on the road Sunday, but Jimmy Butler's rolled ankle puts them in a "waiting game" to see if he can play Game 2.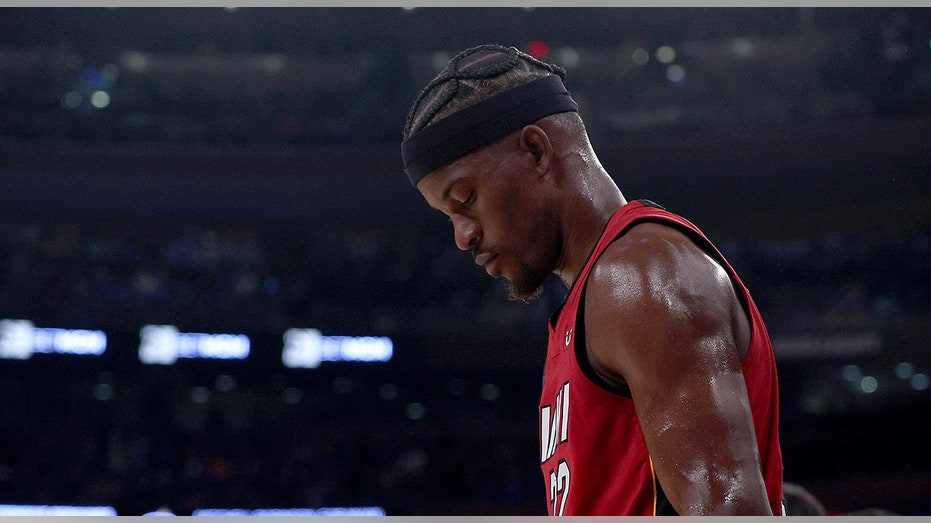 The Miami Heat came away with the Game 1 victory over the New York Knicks in their Eastern Conference semifinal matchup, but it didn't come without a big scare for their star that got them there in the first place. 
Jimmy Butler's 98 points in the final two games of the first-round series against the Milwaukee Bucks led the Heat to a shocking upset over the NBA's best team in the regular season.
Butler had 25 points to kick off this series, but with five minutes remaining in the game, he collided with Knicks guard Josh Hart on a drive to the basket that resulted in a rolled ankle that had him in a load of pain.
CLICK HERE FOR MORE SPORTS COVERAGE ON FOXNEWS.COM
Butler was down on the court for a few minutes while head coach Erik Spoelstra and the training staff ran out to see what was ailing him. Video replay showed that Hart's foot got in the way of Butler landing on a jump shot, resulting in the roll.
He confirmed that was the case to the broadcast following the Heat's 108-101 win. 
Butler, though, didn't come out of the game. Spoelstra said he wanted to stay in despite a noticeable limp after he sustained the injury. He hit the two free throws he was awarded on the collision with Hart, but he stood in the corner for the remainder of the fourth quarter instead of being his normal, active self.
KNICKS-HEAT BROADCAST SHOWS NEW YORK CITY STOCK FOOTAGE WITH TWIN TOWERS; ESPN APOLOGIZES
Looking ahead to Game 2, Spoelstra couldn't provide much of an update on his star player.
"No idea. You just don't know with ankle sprains. I don't even know if we'll know more by tomorrow. We'll just have to see. It'll be a waiting game," he said.
Butler also had 11 rebounds to lead the Heat in that category and come away with a double-double. He tallied four assists and two steals as well.
Gabe Vincent was a crucial piece on the offensive end for the Heat, hitting five of his 12 three-point attempts with 20 points. Kyle Lowry also took over down the stretch with Butler hurt, using his veteran point guard prowess to eat clock and dictate what the Heat wanted to do to close out the game.
Miami will hope that Butler can recover quickly, but as Spoelstra said, the answer may not come as fast as they would like.
They'll just have to wait to see if Butler can play Game 2 on Tuesday night at Madison Square Garden.
Considering he wanted to stay in this game, Butler clearly doesn't want to sit out for his team.