Illinois gun shops see surge in sales after federal judge placed injunction on firearm ban
Gun shop owners reported an overwhelming rise in sales after the Southern District of Illinois issued an injunction against the enforcement of a firearm ban.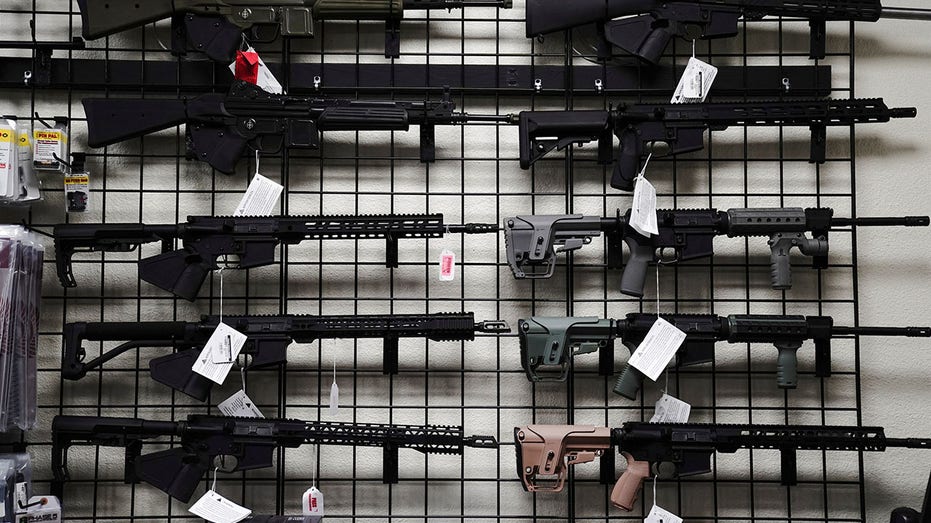 A recent federal ruling by the Southern District of Illinois on a gun law had a massive impact on local gun sales, shop owners reported on Saturday.
Judge Stephen Patrick McGlynn issued a temporary injunction on Friday against the enforcement of a gun law that would ban some semiautomatic weapons, penalize individuals who carry or possess certain "assault weapons" and require citizens to register with the Illinois State Police should they possess a weapon.
McGlynn ruled that the law, which was signed in January, "did not just regulate the rights of the people to defend themselves; it restricted that right, and in some cases, completely obliterated that right by criminalizing the purchase and the sale of more than 190 'arms.'"
Although the injunction was only in place for a day, The Chicago Tribune reported large weekend crowds in suburban gun shops.
GUNS, FEAR AND THE MEDIA: EXPERTS EXPLAIN THE SHIFTING GUN CULTURE IN AMERICA 
"Within 15 minutes, we had people coming in," Roger Krahl, owner of RGuns in Carpentersville said. "There was a line outside the door before I could open up this morning. There will be no lunch today, because we'll be going nonstop."
McGlynn's decision came shortly after U.S. District Judge Lindsay Jenkins declined efforts to block the law on Friday, insisting that the law was consistent with historic firearm regulation efforts and an understandable government act to protect the public from "dangerous" weapons.
Jenkins wrote that the law "responded to 'dramatic technological changes' and 'unprecedented societal concerns' of increasing mass shootings by regulating the sale of weapons and magazines used to perpetrate them."
Meanwhile, local citizens rejoiced at the news of the injunction and the chance to support their constitutional rights.
"I'm fairly excited that I got my rights back," Woodstock citizen Zack Johnson told the Tribune. "We live in the United States, we should follow the Constitution and be able to do what law-abiding citizens are able to do."
SPIELBERG BLASTS REVISING OLD FILMS FOR MODERN AUDIENCES, ADMITS 'MISTAKE' IN EDITING GUNS FROM 'E.T.' 
Gun owners also criticized the law, which some added was a knee-jerk reaction to the Highland Park shooting without regards to the right to bear arms.
"It belies some pretty ugly perspectives from the gun control people that a tragic mass shooting is worth engaging in a constitutional battle, when the number of people who are murdered in Chicago each weekend don't drive them to do anything," Maxon Shooter's Supply owner Dan Eldridge said.
He added, "Living in Chicago raises obvious self-defense issues…If somebody is ready to spend $250 and 16 hours of their time on a concealed carry class, that's a pretty good indication that they do have some concerns about personal safety."
CLICK HERE TO GET THE FOX NEWS APP
Democratic Attorney General Kwame Raoul has since filed an appeal of the ruling with the decision now moving to the U.S. Court of Appeals for the 7th Circuit.