King Charles' coronation: 8 women before Camilla who could have been queen
The king is the subject of a new documentary on True Royalty TV titled "Charles and the Women Who Could Have Been Queen," which explores the royal's quest to find a bride.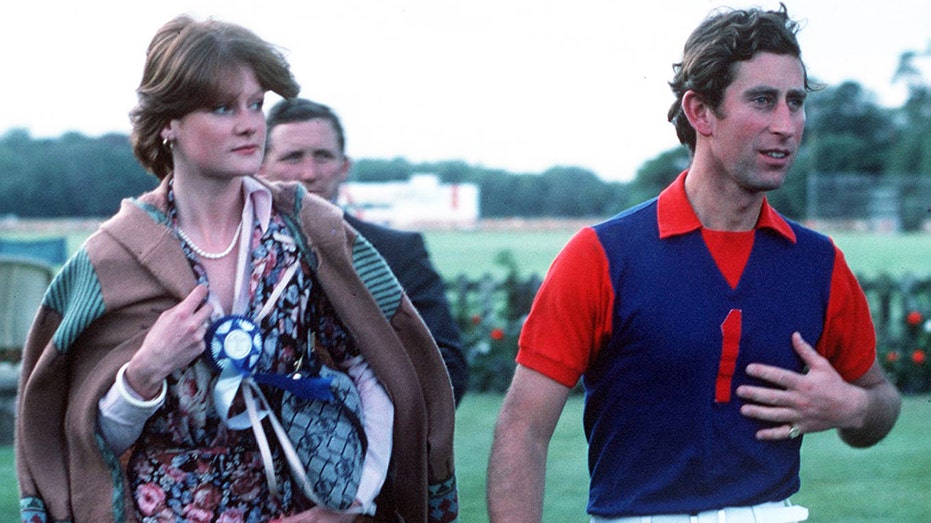 On May 6, Camilla will be crowned alongside King Charles at London's Westminster Abbey – but many others could have been queen.
Once upon a time, the former Prince Charles was the world's most eligible bachelor and was nicknamed the "Playboy Prince" for his lengthy dating history. Queen Elizabeth II's eldest son, the heir to the throne, was on the hunt for an eligible bride and gave himself a deadline of age 30 to find his future queen.
True Royalty TV recently premiered a new documentary, "Charles and the Women Who Could Have Been Queen," which explores the royal's quest to find a bride. He missed his target by two years, but it wasn't for lack of trying. He reportedly romanced at least 20 women coined "Charlie's Angels."
And Charles had a specific checklist for his wife – she needed to be aristocratic, not a Catholic and a virgin. She also needed the queen's approval. Still, his life changed when he met Camilla Shand in 1970, whose family had long links with the royals. They eventually went on to marry in 2005.
KING CHARLES' CORONATION INTIMATE GUEST LIST INCLUDES NOTABLE SNUBS
Here are the eight women who could have been queen if history took a different turn:
Lucia Santa Cruz is the daughter of Victor Santa Cruz, the Chilean ambassador in London. Little is known about her relationship with Charles, but according to reports, the pair met in the spring of 1969. Charles' cousin, Lady Elizabeth Anson, who was also friends with Santa Cruz, allegedly once said, "She was the first real love of his life."
In the documentary, royal author Tom Quinn described Charles as being "instantly smitten" by Santa Cruz, who became his first serious girlfriend. Several royal experts also described the relationship as a "physical one."
It's unclear when the romance ended, but Quinn pointed out that Santa Cruz's Catholic faith meant she would never be queen. Not only did she go on to introduce Charles to Camilla, but she has remained close friends with the couple to this day.
CLICK HERE TO SIGN UP FOR THE ENTERTAINMENT NEWSLETTER
Unlike Santa Cruz, Lady Jane Wellesley was considered to be the first woman who was seen by the press as a possible future princess. The Duke of Wellington's daughter, an independent aristocrat who yearned to be a career woman, dated Charles in the '70s, but the relationship was brief. According to the documentary, Wellesley found the pressures of royal life overbearing. "Do you honestly believe I want to be queen?" she once asked a reporter.
Davina Sheffield, the daughter of a wealthy industrialist, was viewed as "a breath of fresh air" by the British tabloids thanks to her "new money" background. While not an aristocrat, Sheffield was well-connected within royal circles and an avid horsewoman to Charles' delight.
She was romantically linked to Charles in 1976, and it's been said that the future king was seriously considering a proposal. However, the whirlwind romance ended nearly as quickly as it began. An ex-boyfriend, being hounded by the press, publicly admitted that they "lived in sin" or lived together at one point. A devastated Charles called it quits.
Before Charles dated Diana, he was involved with her older sister, Lady Sarah Spencer. The pair met at one of Queen Elizabeth's parties and the future king was said to be taken by her sense of humor and reddish hair. They dated in 1977 and on paper, she seemed like a perfect match for the heir to the throne.
"She was from the Spencer family, fully aristocratic," True Royalty TV co-founder Nick Bullen explained to Fox News Digital. "And in many ways, they would have been a very good match. She's probably more like Camilla than she is Diana. Sarah loves horses, loves hunting. She smokes, she speaks her mind – all the attributes that Camilla had when Charles was going out with her in the early years. So in many ways, Sarah matched all the things that Camilla was and what drew Charles to Camilla. But she also had all the things Camilla didn't have, which was the aristocratic heritage."
But that all changed in 1977 when Spencer, targeted by tabloids, told reporters that she frankly wouldn't marry someone she didn't love. According to the documentary, an embarrassed Spencer allegedly called Charles after her bombshell statement in an attempt to clear the air. But Charles, who loathed when his girlfriends spoke to the press, remarked, "You've done a very stupid thing." The film noted that Spencer "played cupid" between Charles and her younger sister, who found her future ex-husband "dashing."
KING CHARLES' CORONATION: TOM CRUISE, WINNIE THE POOH, NICOLE SCHERZINGER ADDED TO ROYAL CONCERT LINEUP
Charles attempted to keep it in the family when he dated Lady Amanda Knatchbull, his second cousin and a descendant of Queen Victoria. Knatchbull is the granddaughter of Lord Mountbatten, Charles' godfather and beloved mentor. According to reports, they dated on and off in the '70s, which led Charles to propose. But according to the film, Knatchbull was firm in saying no on the spot to her childhood friend. With little chemistry between the two, there were no hard feelings. Knatchbull had no desire to be queen and was "unwilling to step onto the royal treadmill."
Anna Wallace is the daughter of a Scottish landowner who was coined "Whiplash Wallace" for her fiery temper. Wallace, a statuesque blonde, was described as a "more dangerous Lady Di" for sharing similar features with a more timid Diana.
Wallace and Charles met on the hunting field in 1980, and they quickly bonded over sports. The film described the pair as having a "hands-on relationship," one that scored Wallace a coveted lunch with the queen. According to the documentary, Charles proposed twice, and both times Wallace turned him down, suspecting that he wasn't completely over Camilla. The film described how the relationship soured after Charles ignored Wallace at a party – for Camilla. A furious Wallace immediately called it quits.
Lady Dale Tryon, an Australian socialite, reportedly received the nickname "Kanga," short for "Kangaroo," by Charles. The pair met in 1966 when Charles spent two terms studying at Geelong Grammar School in Victoria. Their friendship allegedly cooled after Charles met Camilla. She went on to become Baroness Tryon after marrying Anthony Tryon, 3rd Baron Tryon, in 1973. Still, that didn't stop the press from insisting she was a mistress to Charles, a claim that the Tryon family has continuously denied over the years.
Charles was quoted as saying that Tryon was "the only woman who ever understood me," but some reports alleged that statement may have come from Tryon herself. Nevertheless, Charles was named godfather to Tryon's son, Charles Tryon, in 1976. Camilla also made Charles the godfather to her son, Tom Parker-Bowles.
"Kanga – Lady Tryon – was an Australian fashion designer who Charles was seeing at the same time he was seeing Camilla," Bullen claimed. "There was definitely a very close, passionate relationship and friendship there. Could she have been queen? Who knows. But it would have been interesting to have had an Australian queen on the throne. It could have been good for the Commonwealth."
BUCKINGHAM PALACE RELEASES NEW PORTRAITS OF KING CHARLES, CAMILLA AHEAD OF CORONATION
Diana and Tryon reportedly joined forces against Camilla. The Princess of Wales seemingly sent a strong message to Charles' great love by wearing one of Tryon's clothing designs. Like Diana, Tryon met with a tragic end.
Reports claimed that Tryon was iced out by Charles after he and Diana called it quits. It is also believed that Tryon's willingness to speak with the press prompted the move. In 1996, Tryon fell from a window of a rehabilitation clinic, which left her wheelchair bound. In September 1997, a month after Diana's death, Tryon and her husband divorced. Two months later, she died from septicemia. She was 49.
The former Lady Diana Spencer was introduced to Charles in 1977 by her sister, Lady Sarah Spencer. However, it wouldn't be until three years later that they began dating. According to the documentary, their time spent together was "absolutely minimal" and Charles proposed after less than 15 dates. Diana suspected that Charles wasn't over Camilla, but the two went on to have a lavish wedding in 1981.
A happily ever after wasn't meant to be for the prince and princess. The couple was married for 15 tumultuous years, a union plagued by jealousy, infidelity and resentment. In between, they welcomed two sons, Prince William in 1982 and Prince Harry in 1984. The couple separated in 1992 and their divorce was finalized in 1996. In 1997, Diana died from injuries she suffered in a Paris car crash. She was 36.
Before her death, Diana gave an explosive interview to BBC journalist Martin Bashir, where she discussed the breakdown of her marriage. When Bashir asked Diana if she thought she would ever be queen, her response was, "No, I don't."
PRINCESS DIANA DID NOT THINK CHARLES WAS FIT TO BE KING: EXPERTS
"I'd like to be a queen of people's hearts, in people's hearts, but I don't see myself being queen of this country," said Diana at the time. "I don't think many people will want me to be queen. Actually, when I say many people, I mean the establishment that I married into because they have decided that I'm a non-starter. Because I do things differently. Because I don't go by a rule book. Because I lead from the heart, not the head, and albeit that's got me into trouble in my work, I understand that. But someone's got to go out there and love people and show it."