Meghan Markle's estranged family speaks out: 5 biggest bombshells from their tell-all interview
Meghan Markle's estranged family spoke out together for the first time to set the record straight about lies they claim the Duchess of Sussex has told about them.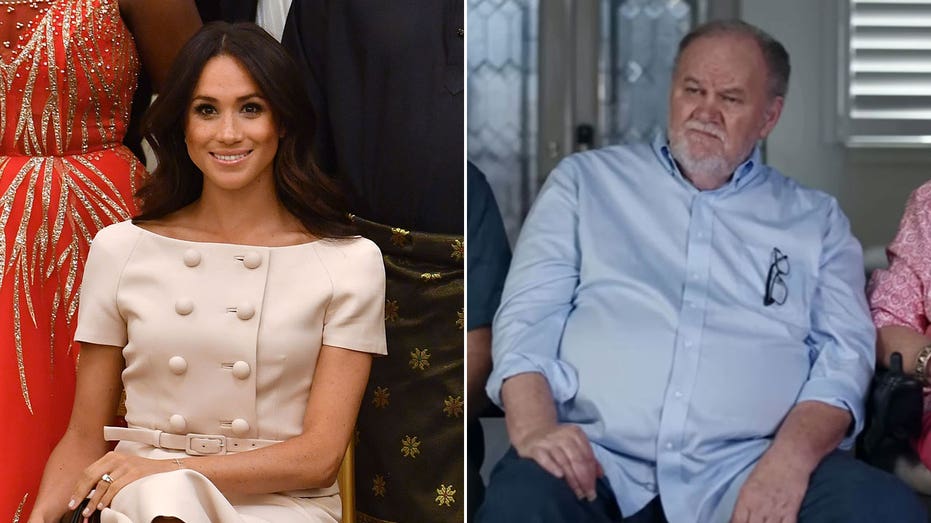 Meghan Markle's estranged family reunited for a tell-all interview in which they accused the Duchess of Sussex of continuously lying about them.
Markle's father Thomas Markle, half-sister Samantha and half-brother Thomas Jr. all sat down together for the first time with Australian news outlet 7News Spotlight. The interview aired on April 30 and was their attempt to set the record straight from the family's point of view.
The interview comes just days before King Charles III's coronation – which Markle will not attend.
MEGHAN MARKLE, PRINCE HARRY 'DISLOYAL' FOR 'TRASHING ROYAL FAMILY,' NEED TO 'FIND THEIR OWN IDENTITY': EX PAL
Here are the biggest bombshells:
Markle's dad claimed the two have not spoken since their public falling out in 2018, even though he suffered a stroke in 2022. Markle seemingly cut her father out of her life when it was reported that Thomas was staging paparazzi photos for money ahead of the Duchess of Sussex's wedding.
"If she doesn't turn up for a stroke, if that doesn't move her, what would?" Thomas said during the interview.
Later in the conversation, Thomas made a plea to his daughter for reunification.
"It's a huge disappointment, and it's sad every day," Thomas said.
"Let's go somewhere and talk. And then I'd say, 'What's wrong? How can I fix this?'"
Thomas said he is "open to any kind of conversation" and would love the opportunity to see his grandchildren – whom he has never met.
Samantha Markle claimed Prince Harry and Meghan Markle's relationship is "toxic."
The half-sister of the Duchess of Sussex said the two are "very unhealthy for each other." She added, "It's a toxic relationship."
Markle and Prince Harry met in 2016 on a blind date. The two quietly dated for six months before making their relationship public. By November 2017, the two were engaged.
Prince Harry and Markle married in a televised ceremony in May 2018. They have two children together; Archie and Lilibet.
MEGHAN MARKLE BLASTS RUMORS SHE LEAKED A LETTER TO KING CHARLES REGARDING RACISM IN THE ROYAL FAMILY
Markle claimed during her tell-all Oprah Winfrey interview - and again during the Netflix docuseries "Harry & Meghan" - that she grew up an only child.
"I grew up as an only child, which everyone who grew up around me knows," Markle told Oprah in 2021. "I wished I had siblings. I would've loved to have had siblings. That's why I'm so excited to be pregnant so that Archie has someone."
Both Samantha and Thomas Jr. claim they grew up with Markle and were around during her childhood.
When asked if he was disappointed, Thomas Jr. said, "No, I just made a little mark on my board and said, 'Oh there's another lie.'"
Samantha Markle claimed that Meghan Markle lied about her family to the royals when she met them.
"What she told the royal family, what she told Harry, wouldn't have jived, wouldn't have been consistent with the truth," Samantha said.
Megan's estranged half-sister insisted the Duchess lied because she did not think she or her family were good enough. 
"It doesn't seem like she felt that she was good enough," Samantha explained. "That seemingly in her mind she had to inflate who she was to garner false admiration and to be accepted by the royals instead of saying, 'Look, I've worked very hard. My family was upper middle class. He put me through the best schools. He did the best he could. He loved me. He sacrificed and for that I'm grateful.' Instead, what she did was engage in self-glorification and leave everybody else out of the equation as if she existed in a vacuum. 
"In my opinion, she would still be a waitress if it wasn't for Dad," she added.
CLICK HERE TO SIGN UP FOR THE ENTERTAINMENT NEWSLETTER
Thomas Markle leaked part of a letter sent to him by Meghan Markle after their initial falling out. Queen Elizabeth allegedly suggested that Meghan write the letter to her father.
"The queen never read this letter because it was a horrible letter," Thomas claimed. "Very insulting and cruel."
Thomas claimed he released part of the letter to the Daily Mail in an attempt to tell his side of the story, because Markle had shared the letter with other people who were speaking to the American press.
"I thought I have to get my side into this too. And I put out a little part of it," he explained. "The other things in that letter are so hateful and so cruel that I wouldn't put it out and that's more protecting her than myself."
Thomas also claimed he would never do another interview if the "Suits" actress would reunite with the estranged family. However, Samantha Markle does not believe a family reunion is in the cards.
"I don't think she would do it without a motive," Samantha told the interviewer. "I don't think she's capable of empathy, remorse or shame. I don't think she could feel enough to apologize."