Miranda Lambert shares the 'secret sauce' to her happy marriage
Miranda Lambert talked to Fox News Digital about her relationship with Brendan McLoughlin while at Willie Nelson's 90th birthday concert. The couple has been married since 2019.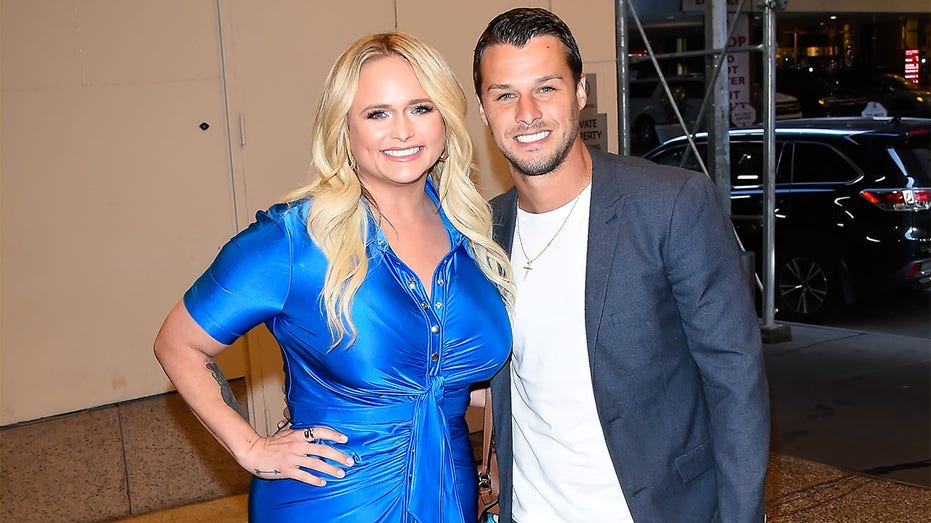 Miranda Lambert is revealing how she keeps her relationship thriving.
The country superstar spoke with Fox News Digital at Willie Nelson's 90th birthday concert, and shared the secret to a successful marriage.
"Everybody's still trying to figure that out, I think," Lambert said with a laugh. 
"Communication and laughing together I think is the secret, secret sauce."
Lambert has been married to retired NYPD officer Brendan McLoughlin since January 2019. She was previously married to country star Blake Shelton.
MIRANDA LAMBERT REVEALS HOW SHE WON OVER HER HUSBAND: 'THE MEAL THAT GETS THE RING'
The "White Liar" singer gave fans a look at her romance with McLoughlin in a series of photos she posted for their four-year wedding anniversary. 
"Celebrating 4 years married today with my main squeeze @brendanjmcloughlin Happy anniversary babe! You are the best," she captioned the oceanside snaps. She added "(Y'all are welcome for the last two pics)," referencing the shirtless photos of her husband.
Lambert revealed why she wanted to share those sexy photos with the world during an interview with Fox News Digital in February.
"I told him, I operate in my gift. I'm a singer-songwriter… I believe that my job, given my gift, is take songs to the people, so if you're given this gift you should take that to the people," she joked, referring to McLoughlin's fit physique. "You're welcome, world."
While at Willie Nelson's birthday celebration, the "Little Red Wagon" singer mentioned a specific recipe that helped get her and McLoughlin closer to marriage.
"The meatloaf is the recipe in the new cookbook that gets the ring. All the girls that are in our circle know that," she laughed.
The recipe is featured in Lambert's new cookbook, "Ya'll Eat Yet?: Welcome to the Pretty B----in' Kitchen."
The three-time Grammy winner previously told Fox News Digital her "mom's famous meatloaf" was the "first big meal" she made for McLoughlin.
"That's the one everyone brings a man home to mom for or calls and asks how to make when things are getting serious."
WILLIE NELSON AT 90: TEXAS LEGEND SHARES A BIRTHDAY TO REMEMBER WITH GEORGE STRAIT, SNOOP DOGG, AND OTHERS
Lambert also noted her book is "a reminder to slow down and spend quality time with the people in your life and to really cherish the memories you make with them."
"These recipes are all really approachable because it should be more about the time you spend around the table together and less about spending hours and hours in the kitchen to make a picture-perfect meal."
CLICK HERE TO SIGN UP FOR THE ENTERTAINMENT NEWSLETTER
During "Long Story Short: Willie Nelson 90" Saturday night, Lambert spoke about the impact the country legend has had on her and her music. 
"I feel like he's had such an influence on me," the 39-year-old said. "Growing up in Texas, it was just 'Willie's Religion' there. As a songwriter, you don't get any better than that."
"I got to sing with Willie and Kris Kristofferson for Merle Haggard at the Kennedy Center Honors and that was like, probably still to this day the best one of the top moments of my life," she added. 
Lambert performed "Mammas Don't Let Your Babies Grow Up to Be Cowboys" at Nelson's birthday concert. 
The two-night event at the Hollywood Bowl had performances from all music genres, including Snoop Dogg and Chris Stapleton.
Nelson performed "Are There Any More Real Cowboys?" with Neil Young, "Sing One With Willie" and "Pancho and Lefty" with George Strait, then invited Snoop Dogg on stage to perform "Roll Me Up and Smoke Me When I Die."