Shirley Jones' son recalls his unlikely afternoon with Hollywood 'gangster' James Cagney
Ryan Cassidy is the youngest son of "The Partridge Family" matriarch Shirley Jones and Tony Award-winning actor Jack Cassidy. He has written a children's book on 1930s film star James Cagney.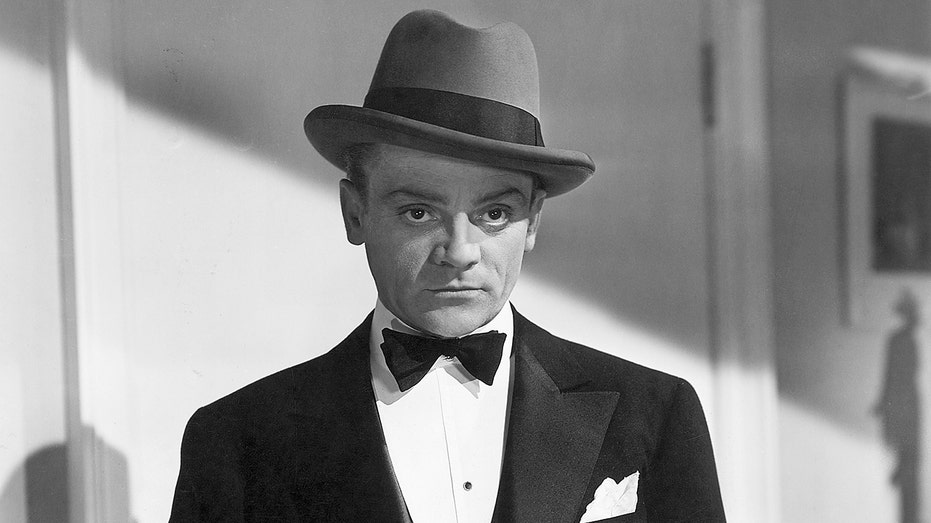 At age 7, Ryan Cassidy spent an afternoon with a Hollywood "gangster" – a day he will never forget.
The 57-year-old youngest son of "The Partridge Family" matriarch Shirley Jones and Tony Award-winning actor Jack Cassidy, as well as the brother of teen idol David Cassidy, is reflecting on his time with James Cagney.
He detailed his afternoon with the Oscar winner in a new children's book titled "James Cagney Was My Babysitter," which also features a foreword and afterword from Jones, 89. The actress worked with Cagney, who died in 1986 at age 86. The two stars became friends over the years.
"There are a lot of actors that I grew up with, and actors and actresses that I met through the years," Cassidy told Fox News Digital. "And there's so many of them that people have forgotten about, or maybe this generation doesn't know about. And I wanted to share a very sweet story that happened [to] me when I was seven years old in a format that will tell people today who this man was."
'50S STAR TERRY MOORE RECALLS 'CRUEL' EX HOWARD HUGHES: 'HE DID SO MANY THINGS THAT HURT ME'
Cassidy grew up in Hollywood, but life was not always glamorous. His parents' seemingly perfect marriage had crumbled. One afternoon, his father picked him up, and they headed to Cagney's house in Beverly Hills. Cagney, who was semi-retired at the time, knew that Cassidy's parents were going through a separation.
"[Due to] a series of events, my dad had to leave," Cassidy recalled. "And Cagney said, 'Why don't you leave Ryan here? And I'll take care of him for a little while.' I was always really shy and didn't want to be in people's homes that I didn't know. I didn't want to mess anything up."
CLICK HERE TO SIGN UP FOR THE ENTERTAINMENT NEWSLETTER
At the time, Cassidy had no idea Cagney was one of the most iconic stars of Hollywood's golden era. In the 1930s, he was the screen's top mobster, but he was also a sought-after song-and-dance man. He was revered by many, and in 1974, became the first actor to receive the Life Achievement Award of the American Film Institute.
But to Cassidy, he was merely a family friend whose home was decorated with vivid illustrations reminiscent of "a fairy tale."
"Even at that age, as a child, I sense that he cared about where my head was at," Cassidy explained. "He wanted to make sure that I was OK… He wanted to build my self-esteem in some way by expressing interest in my interests. He didn't make it about him. He made it about me. And that was pretty important during a time when I didn't know what was going on."
Despite finding fame in Hollywood, Cagney was said to be smitten with country living. In 1936, he bought a farm in Martha's Vineyard, Massachusetts, where he and his wife Frances spent as much time as possible in between films. During their retirement years, the couple lived on a farm near Millbrook in Dutchess County, New York, where he raised Morgan horses. When not in front of a camera, Cagney immersed himself in reading, painting, farming and playing classical guitar.
CAROL BURNETT REVEALS WHAT SHE MISSES ABOUT COMEDY: 'I DON'T THINK A NETWORK WOULD TAKE A CHANCE'
"He loved painting," said Cassidy. "I think he loved decorating because his house was beautifully decorated. He was an actor that when he was under contract with Warner Bros. Studios, he would shoot a picture, and then he'd go to New York and go be with his horses and his family. But his hobby was really painting. There are several paintings out there that he did that are beautiful. I mean, he couldn't wait to take out a pen and a pad and start drawing."
"He asked me, 'What do you want me to draw for you?'" Cassidy shared. "And I said, 'I want you to draw that leprechaun in your display cabinet.' That turned out to be part of 'Snow White and the Seven Dwarves.' And he drew that for me."
It is a drawing, Cassidy said, that he still cherishes 50 years later.
Over the years, Cagney would check in on Cassidy, especially when tragedy struck. In 1976, Cassidy's father died in a fire. According to officials, a cigarette may have sparked the blaze that swept through his penthouse apartment in Los Angeles. The 49-year-old and Jones had divorced in 1974.
"I think I searched for father figures through my life, and mentors that I looked up for guidance," Cassidy reflected. "[Whether] consciously or subconsciously, I wanted to find somebody that could say, 'You're going to be OK.' And, 'I'm proud of you.' Or, 'You're doing a good job.' I don't think you ever lose that. I had to find my dad in ways… he's not here in the physical sense. But I feel my dad around me all the time."
'50S STAR ANGIE DICKINSON ON FRANK SINATRA AND WHY SHE NEVER MARRIED 'LOVE OF MY LIFE'
"But like anything else, you learn to cope with it," Cassidy shared. "It's been a long, long time, but I still miss him all the time. I think about him all the time."
Cassidy described his mother as always being "the backbone of our family."
"The great thing about my mom is that she was never like, 'I'm a movie star and this is what I do,'" Cassidy explained. "She was like, 'That's my career and this is my life – my children, my husband.' That was her life. And she came from a very small town. She had small-town sensibilities. And she tried to instill that into her children. So even though we grew up in show business, we had a real life as much as it could be a real life."
'HAPPY DAYS' STAR HENRY WINKLER LOOKS BACK ON 50-YEAR CAREER, REVEALS HOW FONZ'S ICONIC CATCHPHRASE CAME TO BE
"My mother was playing a mother on television, but she would come home, and she was just as much of a mother with us as she was a mother on TV," he continued. "But the reason why she was so good in that role as Mrs. Partridge was because that's something that came naturally to her. She was nurturing, loving, and compassionate – just a great mom."
Cagney had some heartfelt words for the matriarch's grieving son.
"He told my mom, 'Your son Ryan is an insightful, artistic young man, and I cherished those few hours that I spent with him,'" Cassidy beamed. "I know I never forgot my afternoon with him. He was this genuinely sweet, wonderful older man who was also incredibly charming and charismatic. And he showed me some kindness, without me being his own child or grandson. I just never forgot it."
Another actor who has been on Cassidy's mind is Dean Martin. Growing up, Cassidy said the that star was often at the Hamburger Hamlet watching sports from the bar.
"Dean lost his son, and I don't think he ever really recovered from that," Cassidy admitted. "Whatever he was experiencing, I think he wanted to be alone. That was his place to go and sit. But he was always so nice to me. He was a lovely man who would always ask about my mother."
The crooner's eldest son, Dean Paul "Dino" Martin, was killed instantly in 1987 when his fighter jet slammed into a remote mountainside. He was 35.
MARILYN MONROE ASKED JUDY GARLAND THIS HAUNTING QUESTION, AUTHOR SAYS: 'THEY FELT FOR EACH OTHER'
Ten years before the tragedy, the 82-year-old mother of Frank Sinatra, Natalie "Dolly" Sinatra, was killed in a plane crash nearby in the same mountain range.
"I went in there one night with my mom… it was on Father's Day,'" said Cassidy. "And I noticed him. I said, 'Mom, Dean Martin's sitting at the bar.' And she said, 'Is he? Oh, I want to go up and say hi to him.' I think my mom felt very sorry for him. It's Father's Day and Dean is sitting there by himself. She went up to him and said, 'Dean? It's Shirley Jones.' He turned and said, 'Oh, Shirley!' He got up and put his arms around her… My mom got really emotional. She started to cry."
Martin passed away on Christmas Day 1995. He was 78.
However, not all of Cassidy's memories of Martin are sorrowful. He described how Martin's sense of humor never left him.
"That was his favorite place to go," Cassidy noted. "His white Rolls-Royce was sitting right in front of the Hamlet and his license plate said 'Drunkie' on it… An incredible talent that guy was."