Willie Nelson at 90: Texas legend shares a birthday to remember with George Strait, Snoop Dogg, and others
Willie Nelson celebrated his 90th birthday with a special concert, filled with stars like Snoop Dogg, Lyle Lovett and Ethan Hawke.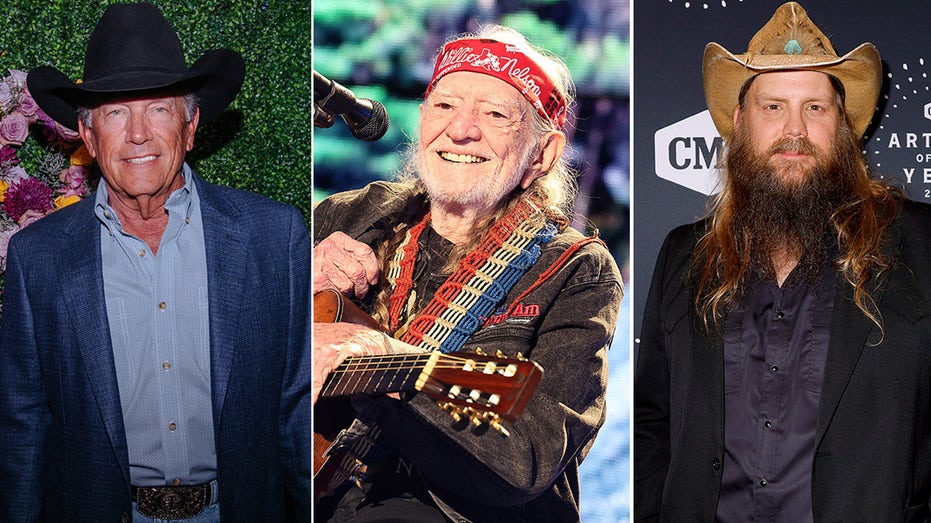 Texas troubadour Willie Nelson had a birthday party that will be remembered.
"Long Story Short: Willie Nelson 90" kicked off on Saturday night, which was Nelson's birthday. The two-night event at the Hollywood Bowl host performances from all music genres, including Snoop Dogg and Chris Stapleton.
Ethan Hawke shared kind words about Nelson's impact on the country to Fox News Digital before night one of the event on Saturday night.
GRAMMY WINNER WILLIE NELSON TO CELEBRATE HIS 90TH BIRTHDAY WILL ALL-STAR, TWO-DAY CONCERT 
"The country is struggling with its identity right now and what was the country's identity when Willie started versus what it is now, it's really struggling," he began. "He's a meeting place where a lot of people from different walks of life can meet and have a little clarity on the corny word of love and have one place to meet. 
"A lot of people disagree, but a lot of people can agree on Willie Nelson. 
Miranda Lambert spoke about Nelson's impact on Saturday night. 
"I feel like he's had such an influence on me," she began. "Growing up in Texas, it was just 'Willie's Religion' there. As a songwriter, you don't get any better than that."
WILLIE NELSON SHARES WHY HE IS STILL TOURING AT 90 YEARS OLD: 'IT'S JUST A NUMBER'
Lyle Lovett spoke to Fox News Digital before the event, crediting Nelson with "freedom of thought" in country music.
"Willie Nelson's insistence on doing things his way opened the doors for a lot of artists and song-writers, in Texas certainly, but certainly in Nashville, to think freely in a way that people didn't do before Willie Nelson," he shared. 
"Freedom of thought, freedom of expression, Willie Nelson made that happen.
Lovett shared that he is always "honored" to be with Nelson and to "watch his quiet strength and his ability to look people in the eye and communicate with them, whether he's speaking or he whether he is singing is just extraordinary. 
"Just to be in his presence… you can't help but learn something."
The "You've Got a Friend in Me" singer said that Nelson is his "hero."
After the first three hours of the concert, from promoters Live Nation- Hewitt Silva, Nelson took the stage with Snoop Dogg, George Strait and Neil Young.
After performing "Are There Any More Real Cowboys?" with Young Nelson joked, "I want to thank all the artists for helping to celebrate whatever we're celebrating," USA Today reported.
Nelson then performed "Sing One With Willie" and "Pancho and Lefty" with Strait before inviting Snoop Dogg on stage.
"Hey, Snoop, come on out here and help me roll one up," Nelson said. The duo performed "Roll Me Up and Smoke Me When I Die."
Other performers included Lyle Lovett, Miranda Lambert, Rosanne Cash, Snoop Dogg, The Chicks and Kacey Musgraves.
Nelson brought out all the evening's artists to join him for the Carter Family's 1935 song, "Will the Circle Be Unbroken?" a longtime live favorite of his and the classic closing song for all of country music.
It was clearly intended to be the end, as Hawke took the mic and started to thank everyone for coming.
But the 90-year-old wasn't ready to stop. He interrupted and broke into Mac Davis' "It's Hard to Be Humble," which Nelson and his sons recorded in 2019.
It was a funny choice for a final song, but its chorus was a perfect comic coda for a man who had been drowned in adoration all night:
"To know me is to love me, I must be a hell of a man. Oh lord, it's hard to be humble. But I'm doing the best that I can."
Six decades into his career, the singer-songwriter, author and activist is still going strong, with a new album — "I Don't Know a Thing About Love" — coming in March and a five-part documentary premiering at the Sundance Film Festival. He's also nominated for four Grammys this year. Some of his biggest hits include "On The Road Again," "Crazy" and "Funny How Time Slips Away."
CLICK HERE TO SIGN UP FOR OUR ENTERTAINMENT NEWSLETTER
Other performances included Tom Jones, Tyler Childers, Warren Haynes, Ziggy Marley, Sturgill Simpson, Allison Russell, Beck, Billy Strings, Bobby Weir, Charley Crockett, Edie Brickell, Leon Bridges, Margo Price, Nathaniel Rateliff, Orville Peck, Sheryl Crow, The Avett Brothers, The Lumineers, and Nelson's sons, Lukas Nelson and Micah Nelson, the latter of whom performs as Particle Kid.
Executive producer Keith Wortman told USA Today how the performers were chosen for Nelson's historic 90th birthday event.
"We put a thoughtful list together of Willie's close friends and the family of musicians that Willie has either recorded or toured with," Wortman said. "And that just happens to be a very large list."
The Associated Press contributed to this report.